Inclusion & Diversity
---
---
Here at GamCare, we are fully committed to becoming a socially conscious organisation that truly values Equality, Diversity and Inclusion.
By implementing a socially conscious EDI approach, we are holding ourselves to account and making sure that we engage with both the communities we serve, and our employees, with a deeper understanding of the impact of our work and our actions.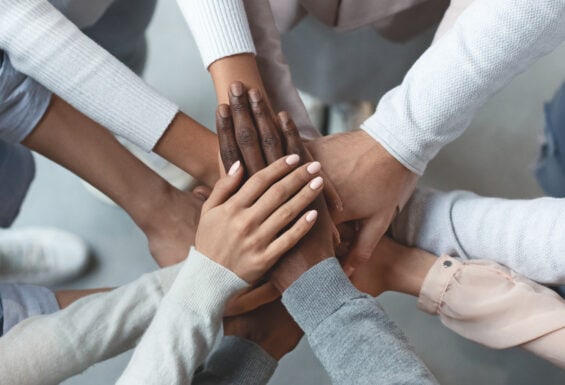 Anti-Racist Statement
Read our commitment towards race equality and being a truly anti-racist organisation.
Inclusion & Diversity Action Group
Since 2020 we established an Inclusion and Diversity Action Group (IDAG), which brings together a group of passionate people from across GamCare, who bring their own experiences to our current work and are helping to drive change in a variety of matters relating to embedding EDI across the organisation. We use the word Action in our name to demonstrate a call for action beyond just discussion on these matters, where we have achieved a significant focus on all matters relating to building an inclusive culture here at GamCare.
Staff Networks
Here at GamCare the dedication and passion of our staff has led to the formation of four network groups, created for and by our staff. These network groups provide an important platform for the organisation to increase our understanding of equality, diversity and inclusion issues amongst our employees. They also enable us to share key dates and information and provide a platform for advocacy work in the organisation, and most importantly, provide a space where employees and their allies can support one another.
Our Staff Networks:
Unity Voices: Empowering and Celebrating Diversity
This is a staff network group that aims to promote a culture of respect, inclusion, and belonging for all staff members. The group provides a safe and supportive space for staff to share their experiences, perspectives, and ideas on diversity issues. The group also organises events and activities to raise awareness, celebrate diversity, and foster collaboration across GamCare.
The group is open to all staff members who identify with or are interested in cultural diversity, such as ethnicity, nationality, religion, language, or heritage. The group welcomes staff from all backgrounds and levels of seniority to join and contribute to its vision and goals.
The (Dis)Ability Network at GamCare is a supportive community that advocates for and empowers staff with disabilities. They believe in creating an inclusive environment where all individuals can thrive and contribute their unique talents and perspectives. The network provides a platform for sharing experiences, discussing challenges, and celebrating the achievements of staff with disabilities. Together, they strive to break down barriers and create a workplace that values and accommodates the diverse abilities of everyone.
The LGBTQIA+ Network at GamCare is a vibrant and inclusive community that celebrates and supports our lesbian, gay, bisexual, transgender, queer, intersex, and asexual colleagues and allies. The network provides opportunities for connection, visibility, and education, ensuring that the voices and experiences of LGBTQIA+ staff are heard and respected.
Our Circles at GamCare is a supportive community dedicated to understanding and addressing the unique needs of staff with parental, caring, or guardianship responsibilities. They recognise the juggling act of balancing work and personal life, and are here to provide a safe space for sharing experiences, seeking advice, and building a supportive network.
Reports
See our 2022 Gender and Ethnicity Pay Gap Report.
Read here
Our Accreditations and Charter Marks
Here at GamCare, we participate in several equality charter marks, and we are always looking for ways to improve, making sure that we live by what we stand for: