Gambling Helpline Advisers warn of the Christmas risks around gambling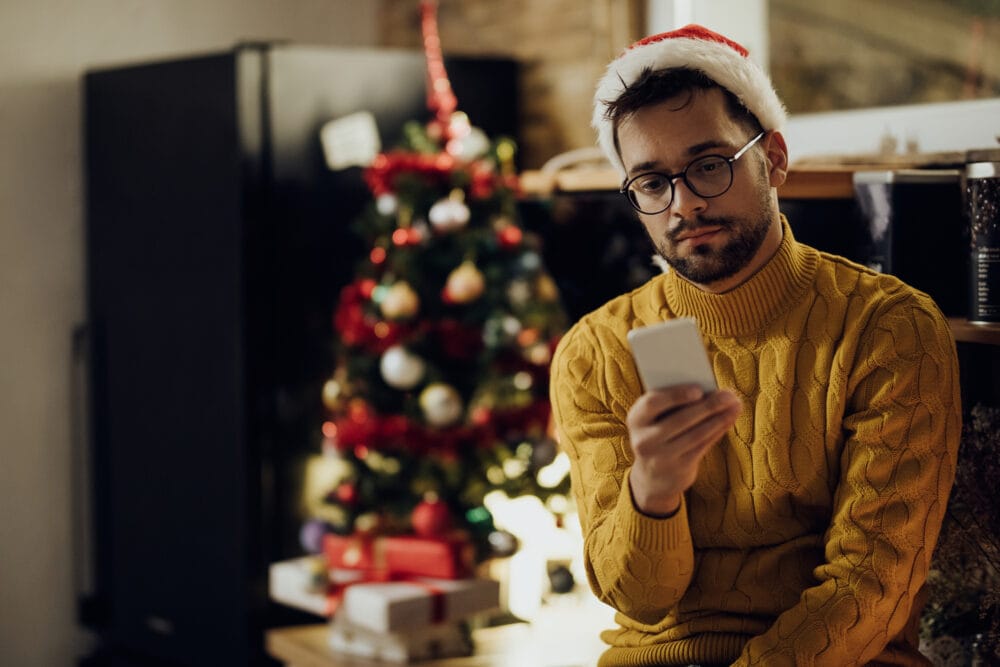 We are asking people to look out for the signs that someone may be struggling with gambling over the Christmas period, and want to remind people about our live chat option for those who are not able to make a private phone-call.
Helpline advisers are warning that, for those experiencing gambling harms, "not being able to buy presents for the children is something that hits home for many more than anything else." The helpline recorded an 18 percent increase in referrals into treatment during pre-lockdown in January 2020*, with staff also reporting an increase in safeguarding issues around the festive period.
Christmas can expose:
The financial issues, social isolation and mental health difficulties that often surround a gambling problem.
An early December payday can add extra temptation to gamble with other triggers including the influence of alcohol, changes in routine and an increase in sporting events to bet on.
New research of over 1000 UK adults carried out for GamCare in the lead up to Christmas** shows that over six million Brits know someone with a gambling issue.  One in five Brits (20 percent) have used either their Christmas pay or bonus on placing a bet, with eight percent saying they do it regularly.  A quarter of Brits (25 percent) have regretted placing a bet before.
A helpline adviser said: "A lot of people get their Christmas pay early, so if they bet it all there won't be another wage until end of January.  This is a long time to go without any money."
"The biggest risk is the expectation that those struggling with a gambling problem will feel from others to provide for their family at Christmas.  If they are hiding their gambling, but needing to explain why they haven't been able to buy presents, they will feel very vulnerable at being found out and very low that they have let people down".
A helpline caller, who didn't feel like they could tell their partner they had gambled their wage, "tried to chase it back and inevitably lost it all again – the final straw was that they couldn't buy their baby Christmas presents."  One more caller, "sold presents to find money to fund their gambling habit, which caused deep regret for them and their family."
Help and support are available 24 hours a day, seven days a week from the National Gambling Helpline over the festive period. The charity is urging people who may have privacy concerns to contact the helpline on live chat, which can offer more discretion if families or housemates are in close proximity. Live chats made up around 43% of all target calls in 2020/21, up from 37% the previous year*** and the charity expects this trend to continue.
Fiona Macleod, Director of Clinical and Communities, said: "With more financial and family pressures, we know that the festive holidays can be a tough time for people trying to control their gambling. During December, along with an early wage, there are more sporting events in close succession, heavy advertising from gambling companies, coupled with many people having free, unstructured time away from work.
"People who have an issue with gambling may have also spent a long time hiding it, and we often hear that Christmas may be the trigger for them facing their problem.  Not being able to buy presents for their children is something that can hit home for those experiencing gambling harms more than anything else. For some people, it might be the isolation and loneliness that is the trigger.
"We are always here to listen and support you when you might feel you have no other options. A message of hope – that is essentially what we're giving people.  Our phone line is open 24/7 over the Christmas period.   In lockdowns, we have seen an increase in people opting for our live chat option.  We want to remind people that this is still available if privacy is a concern."
Five signs to look out for if you're concerned about someone else's gambling:
Withdrawn – Not wanting to join in or losing interest in usual activities or hobbies like going out with friends or spending time with family can be one of the early warning signs that gambling could be harmful this Christmas. Wanting to stay at home more frequently, needing to check their phone constantly to check the latest results as so much is riding on a bet during the festive season.
Changing mood – There could be noticeable changes to their mood and behaviour, including looking worried, agitated or upset for no apparent reason in the lead up Christmas.
Sleeping problems – If someone is chasing losses and losing money they might not be sleeping. Anxiety or constant worrying can lead to people being up all hours. Continuing to gamble on their phone during the night could lead to sleep patterns being affected – especially in the lead up to the festive season when there is more pressure to have the perfect day.
Financial signs – Has money gone missing from bank accounts, or are they regularly short of money on a regular basis and are having to borrow money? There may also be more pressure to get loans out, chasing losses now not just to generate income but also to have a nice Christmas.
Lying – Are you noticing that this person is lying about what they're doing with their time? The biggest risk is the expectation they will feel from others to provide for Christmas and if they are hiding the gambling but needing to explain why they haven't been able to buy presents they will feel very vulnerable at being found out and very low that they have let people down.
Gambling is also known as the 'hidden addiction', and quite often the signs are not clear. You can speak with Helpline Advisers one-to-one over the phone or on live chat 24 hours a day, every day of the year. Call us free on 0808 8020 133.
*In January 2021, referrals into treatment increased by 4% from December 2020
**Research conducted amongst 1000+ UK adults between 3-6th December 2021
*** Live chats in 2019/20 – 14,373 to 2020/2021 – 18,113