Way Forward: Virtual Support Group for Women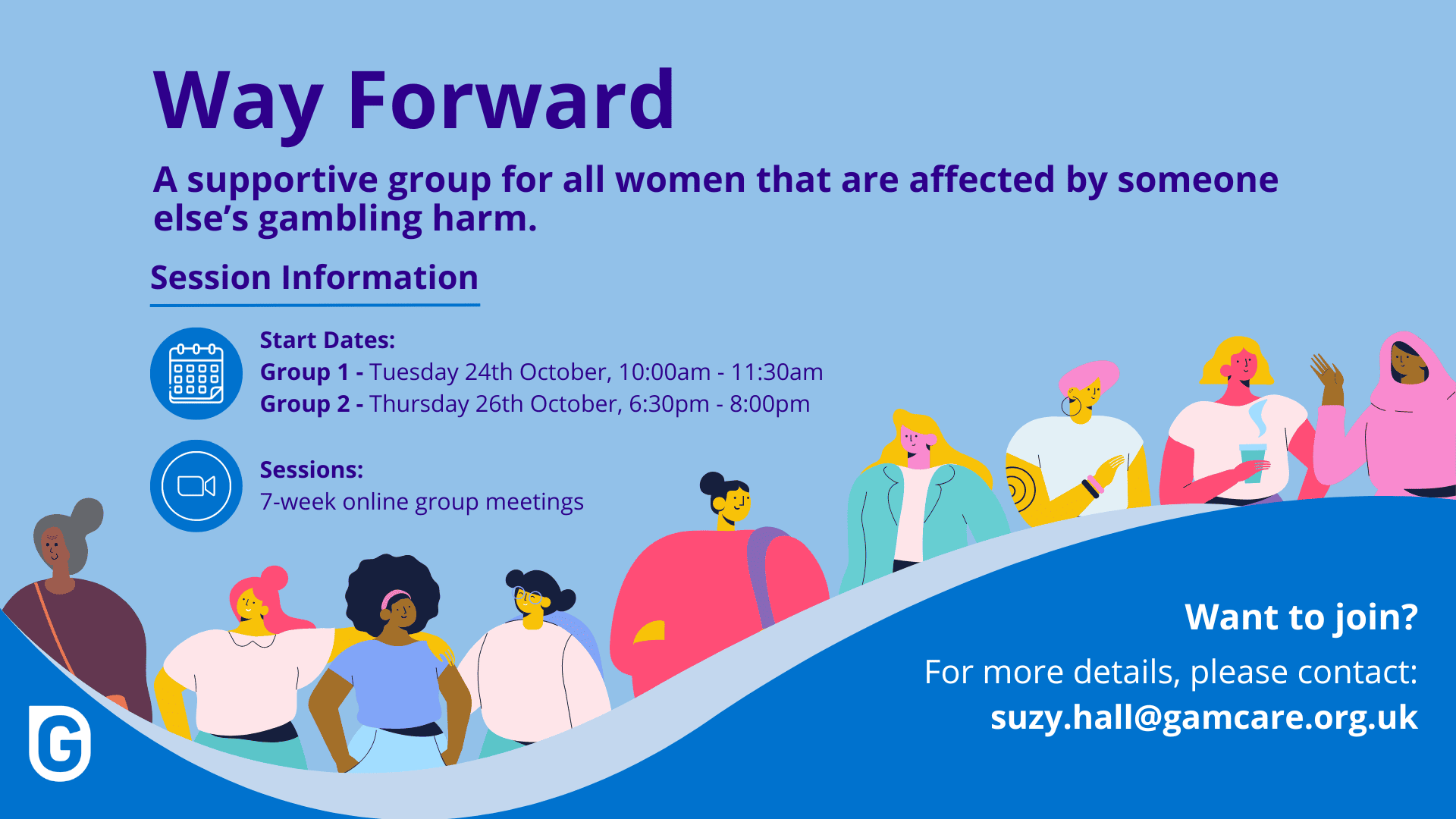 Way Forward is our support group for all women affected by someone else's gambling harm.
We are launching two NEW groups, which aim to provide a safe, supportive and confidential space for women to share their experiences, find comfort and empower one another.
Group 1 starts on Tuesday 24th October and Group 2 starts on Thursday 26th October. Way Forward online sessions are semi-structured, Group 1 will run every Tuesday from 10:00am-11:30am and Group 2 will run every Thursday from 6:30pm-8:00pm for seven weeks on Zoom. Both groups will be led by trained facilitators specialising in supporting women who are affected by gambling related harms.
Each week will focus on the impact of different areas of gambling harm:
Session 1 – Getting to know each other
Session 2 – Understanding gambling addiction
Session 3 – Taking care of yourself
Session 4 – Dealing with guilt and shame / enabling behaviours
Session 5 – Dealing with anger and resentment
Session 6 – Having difficult conversations / expectations / acceptance
Session 7 – Reflection week
Feedback from previous Way Forward members:
"At the beginning of the sessions my mental health wasn't great. I was totally overwhelmed and consumed by everything that was going on with my husband's gambling. I now feel so much better, I don't feel alone anymore."
"I feel like we have our own family of affected others. It's nice to be able to talk and listen with a group of people who completely understand."
If you're interested in registering or want to know more, please email [email protected].
This group is for women based in England and Wales. We also have a Way Forward group in Scotland and to register your interest in future sessions, please contact [email protected].
If you need support now, the National Gambling Helpline gives confidential advice and support to anyone affected by gambling in England, Scotland and Wales. You can speak to us for free, 24/7 on 0808 8020 133, or online.