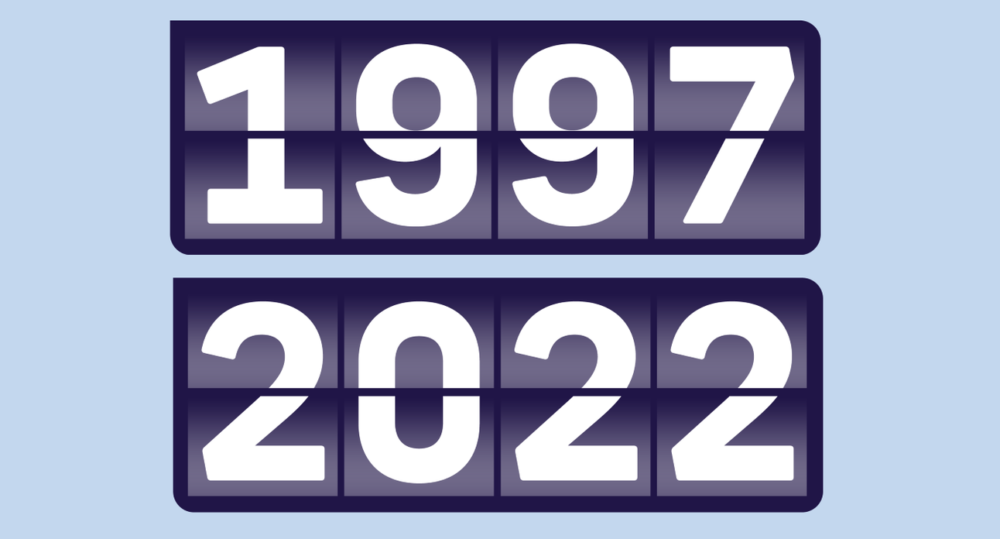 To mark GamCare's 25th anniversary, we have highlighted some of our greatest achievements.
Check out the slideshow and timeline below to see how we have evolved since 1997.
---

1997
Founded by Paul Bellringer OBE, GamCare receives a grant from the National Lottery. GamCare is officially launched on 29th October 1997 by Home Office Minister, Lord Williams of Mostyn.
---

1999
Most of the calls to the helpline were about gambling machines with internet gambling making up less than one percent of calls! By this point, the National Gambling Helpline has taken 2330 calls.
---

2003
Between 2003 and 2005, most referrals to GamCare came from the Yellow Pages.
---

2004
GamCare hosts a conference that has a person with lived experience speak for the first time! Ian Semel from Breakeven rang the National Gambling Helpline in 1999.
---

2005
The forum is launched and allows for human stories about those who have been affected by gambling related harms. It is still used to this day.
---

2010
GamCare ventures into social media by joining Twitter. Our Facebook and YouTube channels followed in 2012. Today, we have 15,000 followers across all of our accounts and platforms.
The National Gambling Helpline has received a total of 155,745 calls.
---

2015
The GamCare website begins to see over 1 million visits per year, on track to achieve over 2 million in 2023.
By 2015, the National Gambling Helpline has taken a total of 253,485 calls!
---

2017
GamCare and YGAM partner to deliver a four-year national campaign to educate young people on the risks associated with gambling.
---

2018
Anna Hemmings becomes CEO of GamCare and begins to grow the charity from 30 members of full-time staff to over 200 in 2022.
---

2019
GamCare receives funding to reach vulnerable women and launches the Women's programme.
Three quarters of callers to the National Gambling Helpline mention gambling debt so GamCare launches the Gambling Related Financial Harm programme to share knowledge, develop resources and enable organisations to help affected customers.
---

2020
GamCare, Gamban and GAMSTOP join together to launch TalkBanStop – a partnership providing a trio of free support and practical tools to help gamblers kick-start their recovery journey.
---

2021
The Criminal Justice programme begins, it is GamCare's work with police, prisons and probation services to minimize gambling-related harm
GamCare launches our first social media campaign for young people. Working with young people to develop a new brand for BigDeal, redeveloping our website and working with influencers to create informative content on relevant channels for young people.
---

2022
Since 1997, the National Gambling Helpline has taken 491,781 calls and helped over 300,000 people.
GamCare commissions a YouGov survey to find out more about how the cost-of-living crisis and cryptocurrencies affect gambling related harms.
GamCare celebrates its 25th anniversary.
---