New research: Multi-Operator Self Exclusion Schemes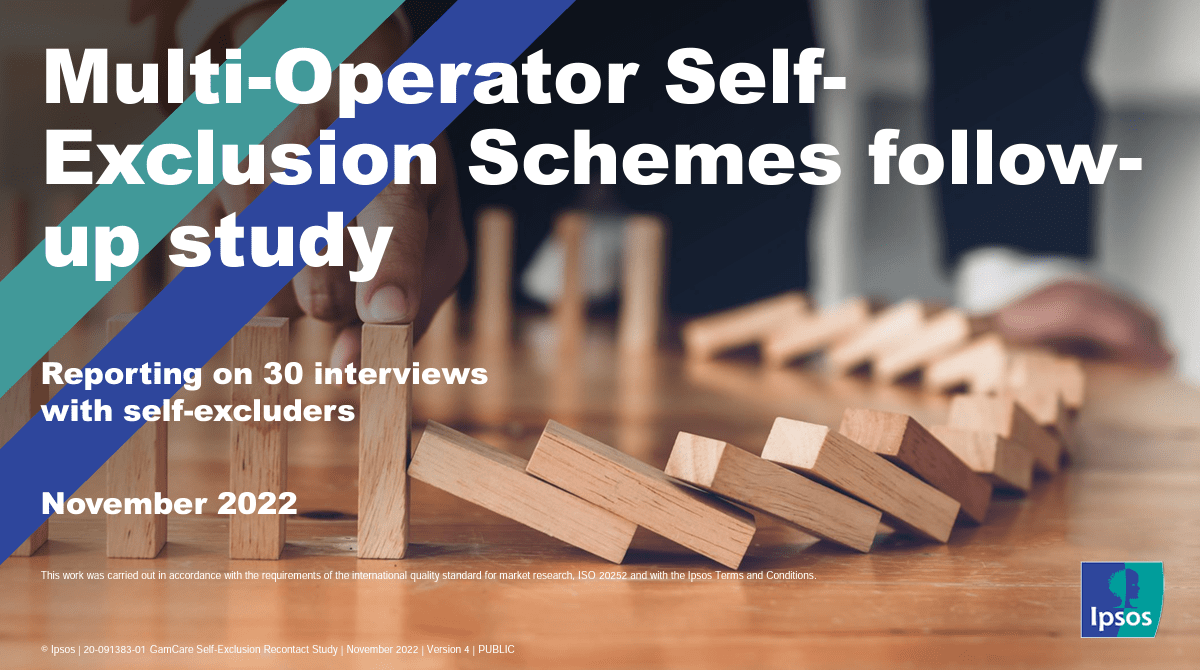 A research study has provided further evidence of how Multi-Operator Self-Exclusion Schemes, in combination with other forms of intervention, can help people experiencing gambling harms.
Researchers at IPSOS conducted 30 follow-up interviews with people who have signed up to these schemes to curb their gambling. The interviews took place nearly three years after the baseline study, with 71% of the original cohort taking part in the follow-up.
This makes it the first longitudinal research study in this area, providing insights into the long-term impact on scheme participants.
The study provides an insight into users' views on multi-operator self-exclusion schemes and the effect they have had on their own gambling behaviours over the longer-term.
The independent research, commissioned on behalf of GamCare, shows the value of these multi-operator self-exclusion schemes.
Self-exclusion from gambling
Self-exclusion allows customers to request help to prevent them from gambling for a period of 6 months or more. During this period, gambling operators must take all reasonable steps to stop the customer from gambling, whether in land-based venues or online. Once a customer has self-excluded, gambling operators must also stop any direct marketing to that customer. The customer is also making a personal commitment that they will not attempt to gamble.
Multi-operator schemes are available for each gambling sector, and customers can also self-exclude from individual operators.
Land-based and online self-exclusion
People who gamble at land-based venues, such as betting shops, arcades and casinos, can register with the relevant multi-operator self-exclusion schemes. Some of the interviewees had also found that the closure of these venues during the COVID-19 pandemic lockdowns had helped them to break their gambling habit.
GAMSTOP is a multi-operator scheme that applies to all licensed online British gambling operators. It allows people to register their details, giving permission to operators to refuse them access to their existing gambling accounts, and prevent them from creating new ones.
The report states that several participants in the study were "appreciative that GAMSTOP was available, citing how online gambling was easier to lose money compared to land-based gambling".
Many of the interviewees were still part of one or more self-exclusion scheme at the time of the interview. Most felt they have now gained more control over their gambling behaviour.
Layering tools and support to minimise harm
Some of the participants had used multi-operator self-exclusion schemes combined with other tools, particularly talking therapies.
Some had used apps such as Gamban to block access to gambling apps and websites from their digital devices. Other methods included ad blockers to stop them from seeing online advertisements for gambling operators, and asking for a bank block to prevent any gambling related transactions.
TalkBanStop – our partnership with Gamban and GAMSTOP – is based on this principle of layering practical tools and support to amplify the impact for people experiencing gambling harms. The partnership encourages gamblers to make the most of three types of intervention to help kick-start their recovery:
Talk: GamCare's trained advisers offer support and advice through the National Gambling Helpline – over the phone, or online through live chat.
Ban: Gamban blocking software blocks access to gambling sites and apps. The tool is free through the National Gambling Helpline or for anyone using GamCare's support and treatment services.
Stop: GAMSTOP offers free self-exclusion from gambling websites and apps.
This combination of tools and support adds extra layers of protection for anyone struggling to control their gambling.
Since TalkBanStop launched, there have been over 12,700 free sign-ups to Gamban's blocking software through the scheme.
The future of multi-operator self-exclusion
Self-exclusion was seen as a 'speed bump' in the road towards harmful gambling. The study also found little evidence to suggest that those self-excluding from one gambling sector transferred their harmful gambling behaviour to another form of gambling.
The report includes a number of recommendations to potentially improve the effectiveness of self-exclusion schemes. It may help to allow participants greater control over their recovery programme and choose their own period of self-exclusion – some would like the option for life.
A review of what happens when someone's self-exclusion period comes to an end may be beneficial, particularly in relation to the marketing behaviour of some gambling operators.
And in the case of some gambling operators, most participants would welcome stricter adherence to these schemes. For example, some land-based venues such as arcades and betting shops could be more proactive in identifying and stopping customers who had self-excluded.