New Play Takes A Closer Look at Gambling Harms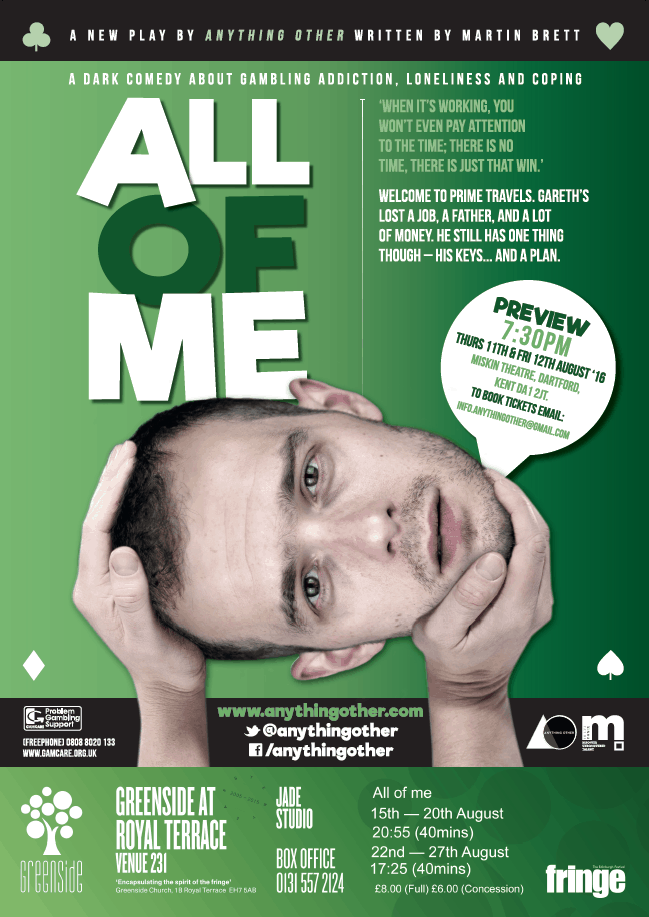 Anything Other Theatre Company is working with GamCare to raise awareness of gambling related harms at the Edinburgh Festival Fringe.
Anything Other Theatre Company, a new company exploring divisive subjects, presents All of Me – a new play about one man's gambling addiction, as he attempts to unpack his loneliness, grief and struggle to cope. All of Me is a dark comedy that will be performed from Monday 15th – Saturday 27th August at the Edinburgh Festival Fringe.
Liz Bacon, Artistic Director at Anything Other, says: "All of Me explores the modern crisis of gambling addiction. We're particularly interested in addiction as a coping strategy for the underlying human struggle to manage loneliness and isolation. As a company, we delve into the uncertain, explore divisive subjects and put underrepresented voices at the centre of our work. We want to bring people together at different ends of society to create communities on, and beyond, the stage."
Anything Other is working with GamCare to raise awareness of gambling harms, and the support that is available for anyone concerned about their gambling or that of someone close to them.
Derek Irwin, Counselling Services Manager at GamCare, says: "We are delighted to be working with Anything Other to tackle such an important subject. Gambling harms can often be called a 'hidden addiction' and many people experiencing difficulty controlling their gambling behaviour will have spoken to no-one about what they are going through. Information, advice and support is available – contact the National Gambling HelpLine on Freephone 0808 8020 133."
GamCare will also be part of a post-show Q&A at the preview performance for All of Me, on Friday 12th August at the Miskin Theatre in Dartford. For more information or to buy tickets, visit Anything Other.