National Helplines Launch #ReadytoTalk Campaign as Lockdown Eases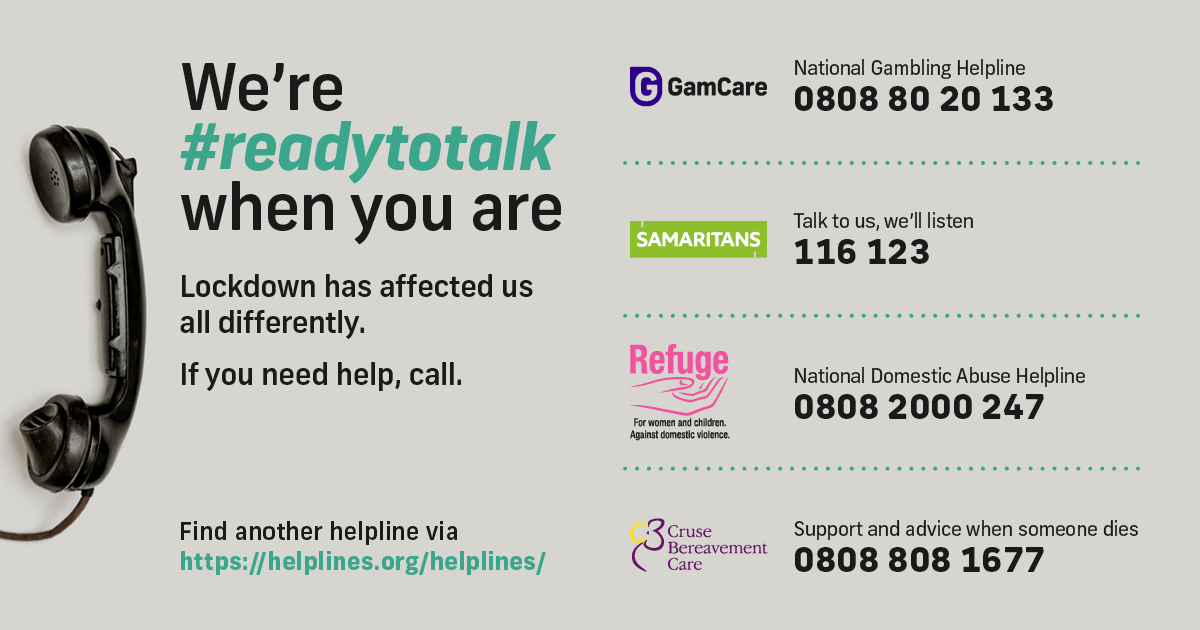 A group of the UK's leading helplines have today launched the #readytotalk campaign, encouraging people to seek support for problems that may have been aggravated as a result of the COVID-19 pandemic, or which they may not have spoken to anyone about while in lockdown.
As lockdown restrictions begin to ease, these organisations want to reassure the British public that whenever they are #readytotalk, their helplines are ready to listen.
The COVID-19 pandemic and subsequent lockdown has affected people across the country differently. Whether it has meant new difficulties, exacerbated existing issues, or meant that people couldn't find the space to speak about their issues confidentially, the #readytotalk campaign is aimed at raising awareness of the support services available to help people when they need it most.
The campaign is supported by GamCare, which runs the National Gambling Helpline, alongside Samaritans, Refuge and Cruse Bereavement Care.
The key helpline numbers are:
National Gambling Helpline – 0808 80 20 133
Samaritans – 116 123
National Domestic Abuse Helpline (Refuge) – 0808 2000 247
Cruse Bereavement Care – 0808 808 1677
Anna Hemmings, Chief Executive of GamCare, says: "With lockdown easing, people have the chance to look up and take stock, to deal with the issues that may have been put to one side. We know that addictions, and gambling problems specifically, can be aggravated by feelings of isolation and distress that have been so prevalent through lockdown. We want people to know we are here to help and ready to listen whenever they are ready to talk. It is great to have support services and helplines united in their desire to help people across the country, especially during uncertain times."
Ruth Sutherland CBE, CEO of Samaritans, says: "We know that human connection is vital for our mental health, and that uncertainty can have an impact on our emotional wellbeing. There are a lot of unknowns right now which is leaving many feeling anxious or worried. We encourage anyone who is struggling in these challenging times to talk to someone. Our volunteers are available 24 hours a day to provide emotional support to anyone who needs a listening ear."
Sandra Horley CBE, CEO of Refuge, says: "Since the Government's request for people to stay at home in March, calls and contacts to Refuge's National Domestic Abuse Helpline have rocketed by 66 per cent, with visits to our website rising ten-fold. As restrictions slowly lift and an end to lockdown is in sight, it's important to remember that for women living with abusive partners, their experiences of isolation do not begin and end with the lockdown and many of them will continue to experience abuse. Our message to each and every woman who needs our support, and any concerned friends or family, is clear – the expert female staff on the Freephone National Domestic Abuse Helpline is here for you twenty-four hours a day, seven days a week. You are not alone."
Andy Langford, Cruse Bereavement Care Clinical Director says: "The coronavirus pandemic has meant it is an incredibly distressing time to be grieving, whenever your bereavement occurred. Many people have been grieving in isolation, unable to attend funerals, say goodbye, and be close to those they love. When you feel you have no control over how you can experience those last moments with someone, this can have a profound impact on the grieving process.
Our advice to people who are struggling has always been to reach out and speak to someone. That hasn't changed. Our Freephone National Helpline has been operating as normal throughout the pandemic, and we would encourage anyone who feels they need support to get in touch, when they are ready. We are here to listen."
Support from other helplines can also be found with the 'Find a Helpline' tool from Helplines Partnership: https://helplines.org/helplines/