Cambridge United Community Trust Launch 'Kick the Habit' Campaign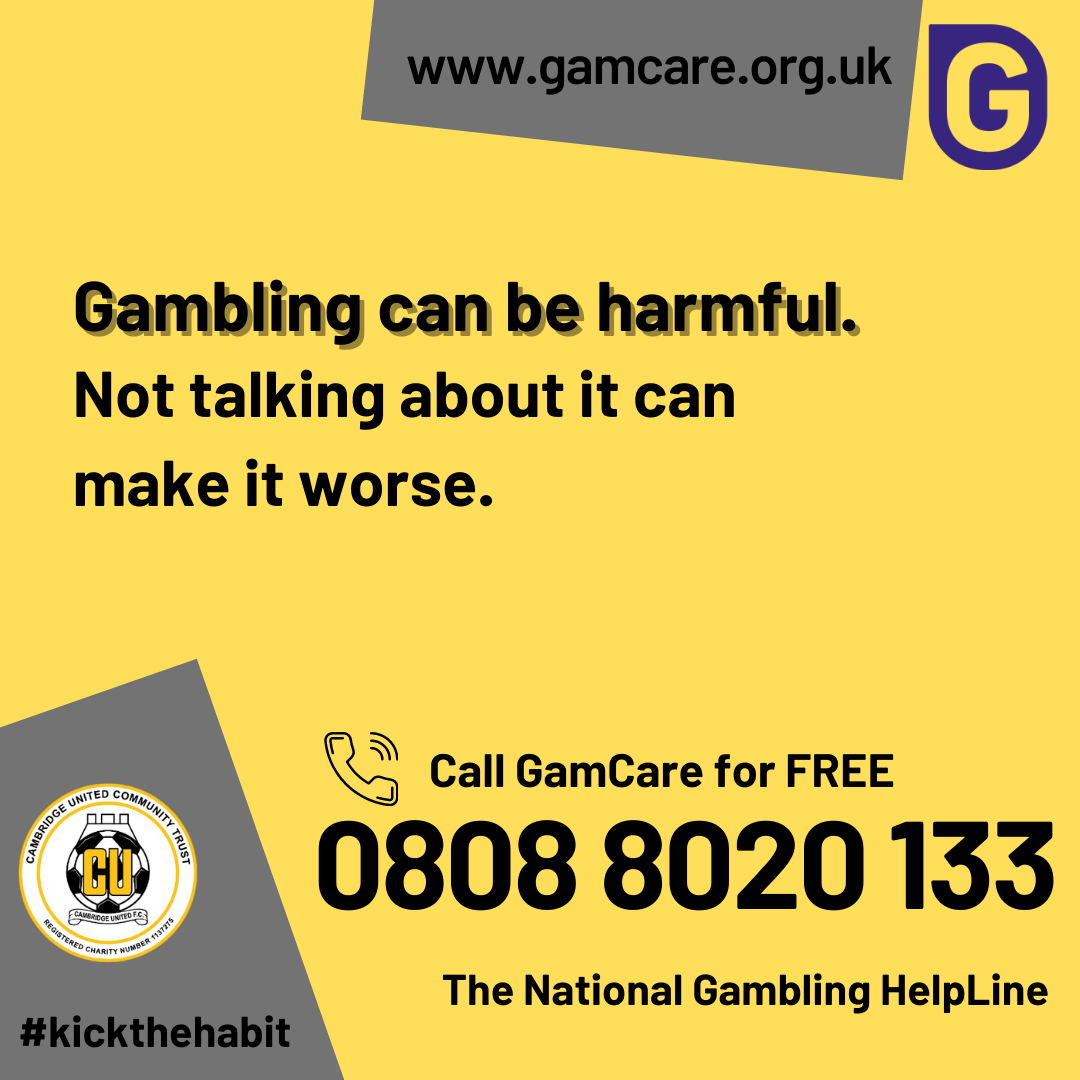 Cambridge United Community Trust (CUCT) is keen to be a positive influence against gambling harms, and has linked up with gambling support charities GamCare and Young Gamers and Gamblers Education Trust (YGAM) to help tackle the issue in a new campaign called 'Kick the Habit'. The collaboration will focus initially on two key tracks – awareness and prevention.
The awareness strand of the work will see CUCT use social media channels to promote a series of articles, podcasts and interviews, exploring the consequences of gambling problems and educating on the issue. Cambridge United legend John Taylor is the lead ambassador for the campaign and he says: "Admitting you have a problem can be the hardest part. The next step to recovery are you talking to someone, and having people there to listen to you."
GamCare provides the non-judgmental, listening ear John refers to. The National Gambling Helpline is available 24 hours a day (over the phone or via live chat), plus you can connect with others in similar situations anonymously through our online chatrooms and the GamCare Forum. GamCare and our partners also provide a range of support services across the country, including with charity Breakeven across Cambridgeshire. Dedicated support services are also provided for young people under 18.
Prevention work is delivered in partnership with YGAM through the Young People's Gambling Harm Prevention Programme, and involves delivering workshops in schools to educate young people on the risks associated with gambling and gaming, and building their digital resilience.
Community Trust Wellbeing Manager Vicky Neal says: "We want to be able to support individuals that are affected by gambling, either themselves or someone they are close to, by signposting them to the support GamCare offers, as well as educate our younger generations on the topic of gambling with support from YGAM."
You can contact the National Gambling Helpline 24 hours a day on Freephone 0808 80 20 133 or via live chat.