What to Expect When You Contact our Helpline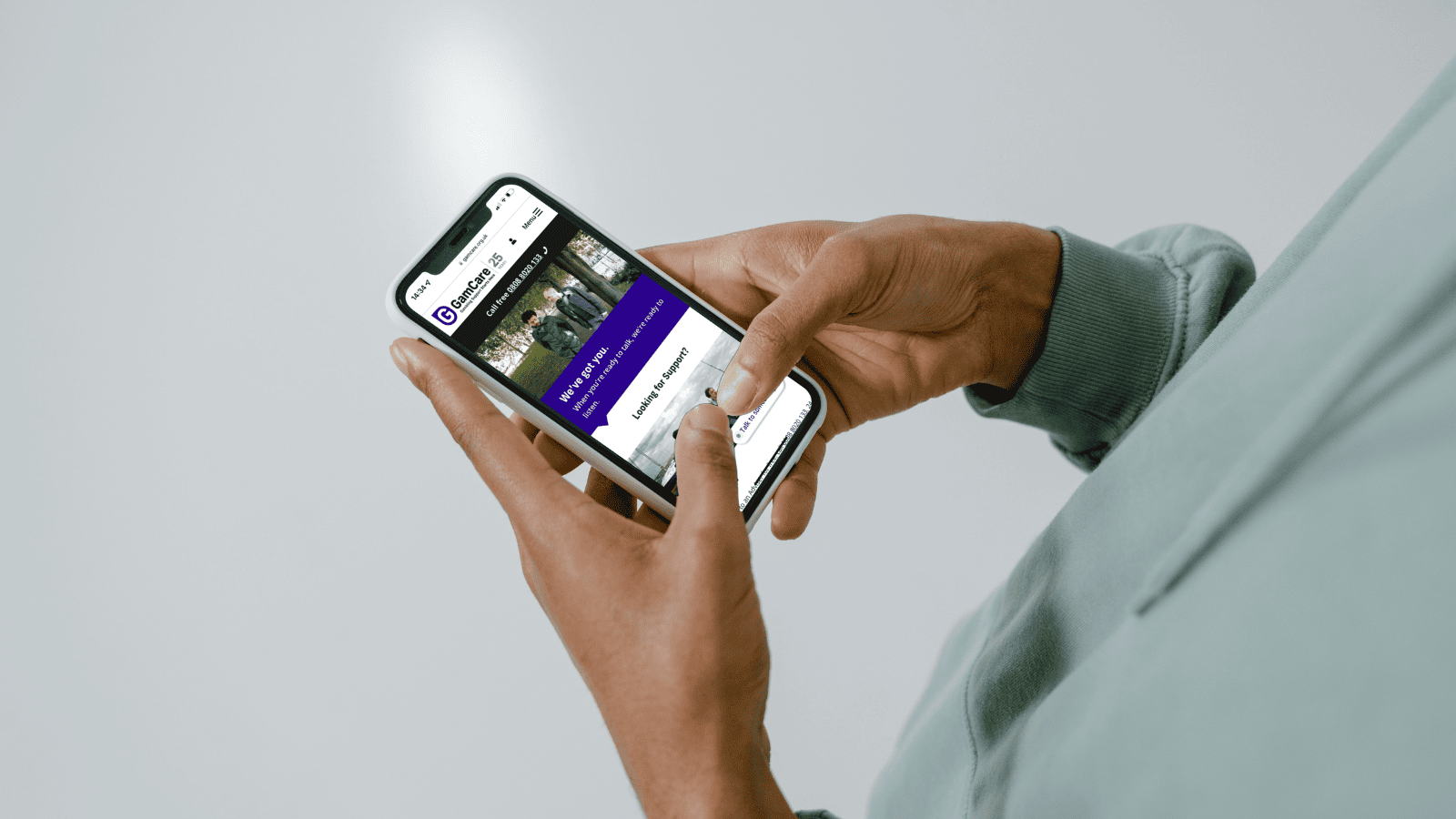 Reaching out for help is a huge step and we understand it can feel overwhelming.
We're here to remove the fear of the unknown with a guide of what to expect when you get in touch with our National Gambling Helpline.
What questions can I expect when I contact the Helpline?
We like to start a conversation and begin with open ended questions. For example, "how can we help?". Remember there's no rush, we're here to listen.
You may be thinking "I don't know where to start". Don't worry if you don't know what you want from the conversation. It can be overwhelming asking for help whether it's your first or tenth time. Together you and your adviser can navigate the issue and find the best solution to suit you, one step at a time.
Can I remain anonymous?
Yes, it is up to you whether you share any information but we like to ask for first names to create a personal conversation. However, if you call us your phone number will be disclosed, if you contact us through WhatsApp, your phone number and the name on your account will be disclosed to us. Our chatroom and forum are good options if you wish to remain anonymous as you set your own username as a user.
We may ask for the first part of your postcode as a starting point to refer you to local services and tailor support to where you're based. If you don't feel comfortable sharing that information, no problem, but we will only be able to give you general advice, guidance, or signposting.
For data collection purposes, we may ask for your ethnicity, gender, and age. We want to ensure our services are reaching a wide range of people and the data can tell us where we need to improve. This information will not mean you are treated any differently.
Read our privacy policy for more information.
How can I get in touch with the Helpline if I don't want to call?
You can talk to us through our live chat, WhatsApp Chat, Facebook Messenger (all available 24/7) or our moderated chatrooms and forum. We understand talking to someone on the phone can be daunting, especially when you're feeling vulnerable. Any contact is a good step, choose a method you feel ready for.
I'm not sure my gambling is 'bad enough' to seek support – can I still contact you?
It doesn't matter how much you've spent on gambling or how long you've done it, if you feel like gambling has impacted your life in any way, we are here to provide you with support.
It can be easy to doubt your situation and think it may not be 'bad enough' to get in touch with us. For example, "my gambling harm can't be that bad, I'm not in debt" or "I've only been gambling for two months, they won't take me seriously". Don't compare yourself to the worst-case scenario, you don't need to get to that point to receive help.
Will you tell anyone that I have contacted you?
We will always give a confidentiality statement at the start of the call so you know the conversation will remain between you and the Helpline adviser. Nothing will be shared without your consent unless someone is in immediate risk.
Many callers are worried that their employer or landlord will be made aware that they're in contact with us or receiving treatment. This is not the case. All calls and treatment will remain private between you and those who support you. Your credit score will also not be affected.
I'm calling about someone else's gambling – what do I need to know about getting in touch?
Whether it's a friend, colleague, partner or family member, we can give you advice and talk you through any guidance you may need.
When it comes to calling on someone else's behalf, we prefer to talk to the person directly unless you are seeking advice for yourself. If you're on speakerphone or swapping the phone, it can be unhelpful, and we may ask if the person affected is comfortable finding a confidential space. We want to check that they are calling because they want to, not because they're forced to.
If a call leads to a referral for further support, we will need the person affected to give consent and to provide information themselves. Consent will also be required if you want to put Gamban or GAMSTOP in place.
I'm under 18, can I receive help through the Helpline?
Yes, under 18s can contact the Helpline through any of the available channels. Some callers get in touch to share what they're going through because they often want advice on how to open up to their friends and family. We can help with this.
You don't have to tell a parent that you're contacting us and we won't share it with them either unless you're in immediate harm.
When should I NOT contact the Helpline?
We recommend calling from a quiet room with no distractions. For example, if you're on public transport or if your children are with you, it can be difficult to get the most from a conversation when noise means we could miss vital information. Remember, our Helpline is available 24/7 so we can help you at any time. If you need a call back at a certain time or day, we can accommodate this.
For safety reasons, if you're driving and want to call us, please pull over somewhere first.
It's best to have a conversation when you have a clear mind. If you have been drinking or taking drugs there may be issues with consent, please contact us when you're sober. If you have other addictions such as drink or drugs, we may signpost you to other services but we are still able to help with your gambling.
What else should I know about the Helpline?
Our Helpline team work incredibly hard to provide 24/7 support. Please be aware that 'after work' hours tend to be our busiest during the week. If you're struggling to get through to the Helpline, we recommend trying again later in the evening or leave a voicemail and we'll call you back.
We have a diverse team of Helpline advisers who are all trained professionals with experience of working with lived experience. Some of our advisers have their own experience of gambling harm too.
We can't accommodate requests for specific advisers, gender or lived experience as this isn't always possible. If you have a preference for speaking with a female adviser, we recommend using our Women's Chatroom which takes place on the first Thursday of every month at 7pm, or use our forum. Protect your privacy and use a unique username instead of your real full name when signing up for our forum.
---
We hope you're feeling less anxious about contacting our Helpline. Remember, nobody is beyond help and we're here no matter what your situation with gambling looks like.
Our Helpline is available 24/7 and there are many ways to get in touch if you're not comfortable calling us. Make the step that feels right for you and we'll be on the other end of the line ready to help.