What does streaming have to do with gambling?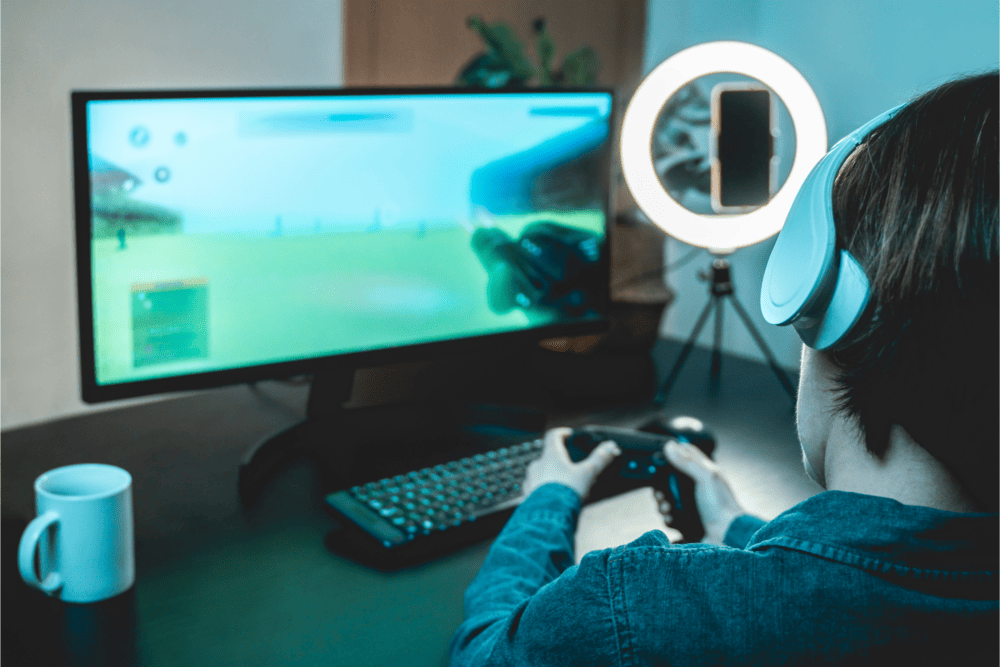 With the latest news of streaming site Twitch banning streamers from promoting 'skins' gambling sites, we spoke to Tom, one of our Helpline Advisers. 
Tom, who is very familiar with the intersection of gambling and streaming, has answered our questions about all aspects of streaming and how it can be harmful.
Can you explain what we mean when we talk about 'streaming'?
Streaming is live content in which an individual does an activity online for viewership, which includes talking, gaming and gambling. You may have seen people 'go live' on Instagram, TikTok or Facebook, and this is essentially streaming. However, some people do this professionally and for long periods of the day, across sites especially for streaming like Twitch.
Where do people stream? Who is watching these streams?
The main platforms that users stream on are Twitch, YouTube and Kick. The age group varies from 13 – 49 years old, as you have to be over 13+ to go on Twitch and Kick. However, the average age is 21 – 35 years old, which is fairly young! About 56% of users are in that demographic. It's possible children under 13 are accessing these sites, as there aren't strong age verification systems.
What is the most popular stream young people use?
Twitch is the biggest platform by numbers – currently right now there are over 1.4 million users watching streams on Twitch. YouTube has more but it's more varied away from gaming and gambling.
A couple of popular streamers with huge followings and live watchers are KaiCenat and AsmonGold. Currently, this morning KaiCenat has 96K viewers watching his stream.  If you would like to know more about the number of views for different streamers, number of subscribers or what they last streamed, you can view this on social blade.
How do streamers make money?
Adverts: Companies can pay you to run adverts on stream and the streamer will likely be paid by how often they play the advert, or by view, (such as earning 1p per minute per viewer). These adverts could be regularly obvious adverts, or more subtle like product placement, including being paid to play certain games. This also includes affiliate codes and links, which are discount codes or links, they incentivise a streamer to talk up a product and get people to use their link or code when joining to ensure they get a monetary cut.
Subscription: Viewers can subscribe to streamers they enjoy, sometimes offering 'premium' content behind a paywall. Viewers often donate to streamers for content they enjoy by using PayPal or Venmo links, or they can purchase things via the platform which they can gift to the streamer.
Varied Distribution: Different platforms give different incentives for streamers. They may choose to make the most of them by streaming to multiple platforms at once to increase their viewership and thus, money made. Streams can also be recorded, uploaded or replayed, and then remonetised with adverts.
Paid deals: Streamers can also be paid to move over to different channels. One of Twitch's most popular streamers, xQc signed a deal with rival platform Kick to move to their channel and was paid $100 million. This was named the 'largest streaming deal ever' and xQc mentioned that it was an easy decision as Kick is allowing him to try things he wasn't able to do before.
What gambling takes place on streams?
There is a lot of gambling that takes place on streams! Mainly online slots, casinos and roulette. If you can do it on a website and screen share it, players will stream it.
Another way is if a player sees a fight or sports game they can bet on, they make the process of picking a side, betting on it and watching it a whole package of content with their viewers, so they can see if they lose or win.
Day Trading is also popular as Stocks and Trade streams are not listed as gambling, but the behaviour has many crossovers with gambling harms.
How do streamers engage their audience while gambling on streams?
Streamers will engage in conversation with viewers by asking them questions and asking for their input on decisions. They will often market gambling products and games, similar to teleshopping. Here are some examples:
'How much shall I bet?'
'It's definitely a win this time'
'Don't forget to use my affiliate code to get a free bet/discount'
'This is an easy win'
This makes viewers feel involved in the choices and want to participate in gambling. Some streams also pick up calls from their viewers and discuss bets or odds. Recently, there has been a rise in online raffles that are being streamed, which may seem 'safe' but can just as much be an issue as it is still gambling behaviour, and so can be harmful.
What measures can be put in place to stop viewing gambling streams?
There are very few unfortunately. Recently, Twitch has put in new measures and users can put blocks on their account, whilst Kick has a new option to show and hide casino or gambling streams.
However, Variety streams also can be an issue. Variety streamers show a mixture of content and often move from one to another seamlessly, so a streamer could be chatting or gaming but then move on to gambling. So, this content might not be labelled properly, they may have said they are 'Just Chatting', or 'Gaming', and it won't update as they move over to a different gambling activity.
So, if someone has opted out of gambling content via the measures in the platform, they will still be shown this content as it is not correctly labelled by streamers. There needs to be a stricter policy around this as well as age verification on platforms.
Many celebrities (like Drake) have been live-streaming themselves gambling, do you think this has an influence on the audience?
Yes massively! Celebrity influence is huge and can be effective with their followers. Last year, we saw a surge in celebrities promoting cryptocurrency or NFTs without really understanding what they were promoting. This had a huge impact, as both were seen as 'get rich quick schemes' but ultimately very risky for the individuals that took them up.
It's important to remember that many celebrities get paid to promote these sites, they are not just doing it for their own fun, and often not risking their own money. Some celebrities will stream or post images of how much they are betting (which could be in the millions) and it can easily influence viewers to place larger bets too. If someone is a fan or into celebrity culture, particularly teenagers and young adults, they might want to imitate them by doing the same.
TikTok has a feature to send gifts or earn money through TikTok battles, could this be viewed as gambling?
This is tricky as it can border on gambling, particularly if they are spending a large amount of money, or an amount that is unaffordable to them. The person may think spending large amounts is a good way to try to out bet someone or to get the streamer's attention.
It isn't considered gambling in the traditional sense as it's unclear what they are trying to win. However, it can be similar to gambling behaviour, with the anticipation and thrill of participating in the 'battles' would be akin to placing a bet. It is worth speaking to an individual who you think participates in these activities in a potentially harmful way about why they do it and what they are trying to gain, as well as the risks or limits.
What advice would you give to parents to ensure their child is safe streaming?
I would say to be familiar with the platforms that your child is using i.e. YouTube, Kick and Twitch. It's important to understand how it works, what is going on and the type of content that it has.
There are control settings to switch off mature content and block filters for gambling.
Also, having an open conversation with your child about what they watch is important so they can get a better understanding of how to be cautious and acknowledge gambling can be harmful.
How can young people stay safe from gambling on streams?
Content filters: This is a technique that blocks and screens access to inappropriate or unsafe web content. You can also use Ad blockers to blacklist certain phrases such as gambling, bets etc. Here is a guide on content filters you should know about.
Education: Understand why gambling is harmful and learn more about people who are streaming to make money, even if they are losing. Gambling and streaming is combined together to sell a product and draw you in.
Communicate: Parents and carers should try to foster open communication with young people about what they are viewing online and how they feel about it. This way you can step in and educate them about potential harms when they come up.
If you are worried that a child or young person in your life is experiencing these harms, reach out to our Young People's Service.