Gambling Education Framework – Delivering Effective Gambling Education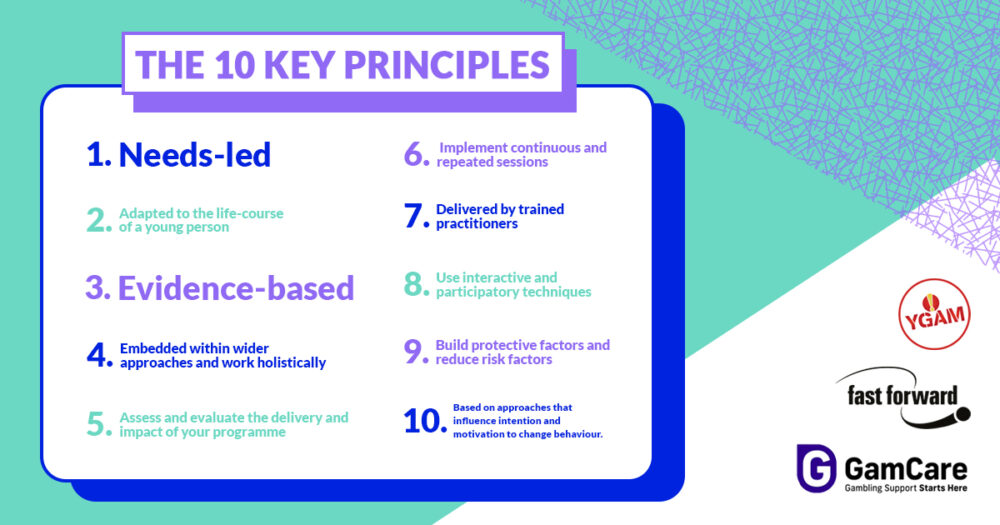 Alexa Roseblade, Youth Programme Senior Manager  
Young people are prone to experimenting with risk-taking behaviours, it's part of learning what risk is and how to regulate it.
Like smoking and alcohol, gambling becomes legal at a certain age. However, we know that many young people can be exposed to this before then. This could be through a parent who gambles, through bets with friends or having lottery tickets and scratch cards bought for them.
Educating young people about gambling harms is key in supporting them to develop their approach to the risks and providing them with the confidence to seek support if needed.  
We recently launched The Gambling Education Framework, a collaborative document produced by Fast Forward, YGAM and GamCare. It provides anyone who works with young people, in a paid or voluntary capacity a set of evidence-based principles to deliver effective gambling education.  
The framework analyses the research and data around effective prevention education and seeks to draw out conclusions, recommendations, and principles to guide this work. The principles developed are evidence-based, produced completely free of industry funding or influence and can be applied to a wide range of educational settings.  
Through the delivery of our existing education programmes, we know that young people already have ideas and opinions about gambling, how to keep themselves safe and where to get support.
The Framework helps educators to build on the young people's ideas in a collaborative and non-patronising way. It supports them to allow young people the space to explore their views and to hear from those who have had lived experience with gambling in a safe and non-judgemental environment.  
If you would like more support in developing gambling education for young people, please get in touch: 
Fast Forward makes gambling education and prevention opportunities accessible to every young person in Scotland. We provide free training, consultancy and resources to organisations that work with children, young people and families.
When professionals complete the City & Guild Assured training, they gain access to over 1000 award-winning resources including lesson plans, activities, information sheets and more. Visit the YGAM website or email

[email protected]

to find out more.
GamCare's Youth Outreach Programme allows for direct delivery to young people and starts meaningful conversations about gambling. The programme delivers interactive workshops, training and digital tools for both young people and professionals.
If you are worried about a young person that you already work with, get in touch with our young people's support service. The service provides age-appropriate support for young people as well as guidance for parents and professionals.